Healthcare Regulations: Navigating Compliance Challenges
In the healthcare industry, compliance with state and federal healthcare regulations is not just a matter of law; it's the foundation of patient care, data security, and ethical practice. Navigating the intricate web of healthcare regulations can be daunting, but it's essential for healthcare providers and organizations. At Dike Law Group, we are committed to helping you ensure compliance with these critical regulations, whether it's safeguarding patient information under HIPAA, addressing credentialing requirements, adhering to Stark Law, or staying in line with state-specific healthcare laws. Our legal team specializes in offering tailored solutions to keep your healthcare business in full compliance, so you can focus on delivering top-quality care to your patients.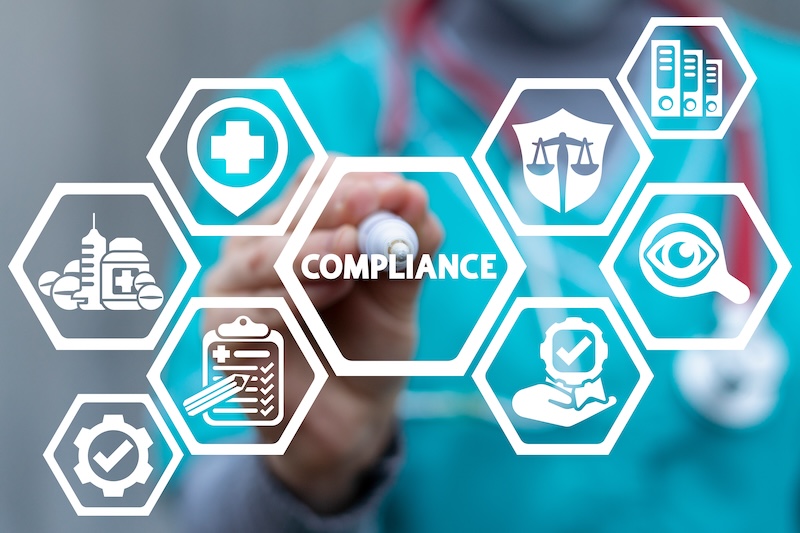 OUR SERVICES
Help with State and Federal Health Law Compliance
HIPAA (Health Insurance Portability and Accountability Act) Compliance
The privacy and security of patient health information are paramount. HIPAA sets the standard for safeguarding this sensitive data. At Dike Law Group, we provide expert guidance on HIPAA compliance, helping you establish and maintain the necessary policies, procedures, and training to protect patient information. We offer comprehensive assessments, risk management strategies, and assistance with breach notifications, ensuring your healthcare business operates within the boundaries of HIPAA.
Stark Law Compliance
Stark Law, also known as the Physician Self-Referral Law, prohibits healthcare providers from referring patients to entities with which they have a financial relationship. Compliance with Stark Law is essential to avoid legal complications and financial penalties. Our legal experts offer guidance to structure financial relationships within the bounds of Stark Law, conduct audits, and establish compliance programs to mitigate the risk of non-compliance.
Credentialing
Healthcare providers must meet rigorous standards to practice, and credentialing is the process that verifies their qualifications, training, and experience. Our legal team assists healthcare organizations and practitioners in navigating the credentialing process, ensuring that your providers meet the requirements of healthcare facilities and insurance companies. We streamline the often complex credentialing process, helping you save time and maintain compliance.
State Healthcare Compliance
In addition to federal regulations, healthcare providers must also adhere to state-specific health laws. State regulations can vary widely, and our legal team is well-versed in the intricacies of state health law compliance. We ensure that your healthcare business is aligned with state-specific requirements, enabling you to navigate the complexity of local regulations while upholding the highest standards of care.
Need Other Services for Your Healthcare Organization? We're Here To Help
Staying compliant is foundational to your healthcare business. We're here to help you build on that foundation. If you need sound legal guidance on healthcare business formation, contract review or drafting, registering a trademark, or non-profit establishment, put Dike Law Group's knowledge and experience to work for you. Our suite of comprehensive legal services are tailored specifically to the unique needs of healthcare businesses in Texas.
Stay Compliant for the Safety of Your Patients & Your Business
Dike Law Group understands that healthcare compliance is a dynamic and evolving landscape. We are here to provide the legal support and guidance necessary to navigate these intricate regulations, protect patient rights, and ensure the legal integrity of your healthcare practice or organization. By staying in compliance with state and federal healthcare regulations, you not only avoid legal challenges but also build trust and confidence with your patients and stakeholders.